The CEO of Justin Alexander, Justin Warshaw, tied the knot with his fiancé, Kelsey, at the breathtaking Castello di Celsa in Siena, Italy. The wedding of Justin Alexander Warshaw and Kelsey Turchi was nothing short of a fairytale romance come to life. Set against the breathtaking backdrop of the Tuscan Hills of Italy, their love story was celebrated in a magical ceremony.
The castle dates back to the 13th century and boasts stunning views of the surrounding area. The couple envisioned their wedding as modern, elegant, and minimal to draw on the natural beauty and character of the castle and its surroundings. They worked with the wedding planner, Primavera Dreams, to bring their dream wedding to life. The wedding was catered by top Italian chefs who served guests with an authentic Tuscan menu. While the couple kept most of the wedding details a secret, guests were welcomed on the first day with an Italian "Welcome Dinner" at Borgo San Luigi, followed by the wedding on Saturday, September 30th, and the festivities were concluded with a "Post-Wedding Day" Pool Party. It was an excellent idea for guests to relax and unwind after the wedding.
The ceremony was held in a lush garden with floral archways and a string quartet that set the tone for a romantic atmosphere. As the couple exchanged their vows, there was not a dry eye in the audience. The guests cheered as they shared their first kiss as husband and wife, sealing their love forever. As Kelsey made her grand entrance in a stunning custom Justin Alexander gown, Justin's eyes were fixed on her with pure adoration. The personal embroidery on Kelsey's gown, handwritten by Justin himself, was a testament to the depth of their love and commitment.
The reception was equally enchanting, with twinkling lights, beautiful Italian dinnerware, and spectacular floral arrangements that added to the romantic ambiance of the evening. Guests were treated to an authentic Tuscan menu and a gelato cart that added to the authentic Italian experience. Kelsey and Justin even created their wedding cake by hand, together in front of their guests, a true testament to their teamwork and partnership.
As the evening progressed, the couple invited their guests outside for a breathtaking fireworks display in the gardens. And as they shared their first dance to "Find Someone Like You" by Snohaalegra, surrounded by their loved ones, it was clear that their love story was nothing short of magical. Kelsey looked stunning and made a memorable bride, a perfect match for a leading designer in the bridal industry.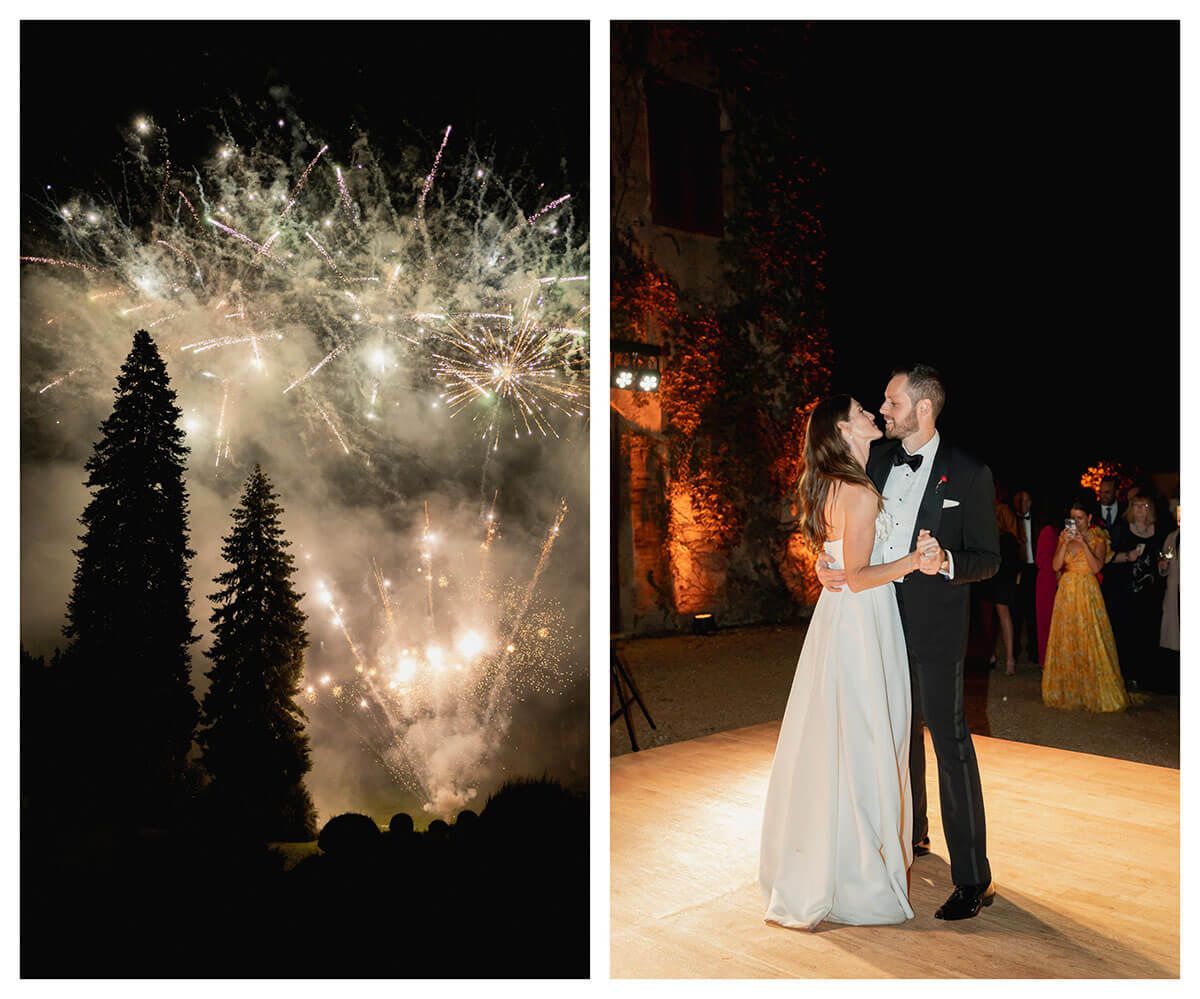 Congratulations to the newlyweds, Justin Warshaw and Kelsey Turchi, on a truly beautiful wedding and a lifetime of love and happiness together!
Photography: Alessia Franco, David Bastianoni Studio
Bridal outfits: Justin Alexander,Justin Alexander Signature, Viktor & Rolf Mariage
Groom's tuxedo: Ralph Lauren
Videography: Waterfall Visuals
Wedding venue: Castello di Celsa
Welcome party venue: Borgo San Luigi
Wedding planning: Primavera Dreams
Planning assistant: Diana Da Ros
Florals: Flowers Living
Invitation suite & Illustrations: Lo in London
Entertainment/Sound/Lighting: Kaleydo
Bride's shoes: René Caovilla, Manolo Blahnik
Bride's rings: Castle Couture Fine Jewelry
Bride's hair & makeup: Cherie Spisso
Welcome party HMU: Giulia Di Terlizzi
Groom's shoes: Christian Louboutin
Groom's ring: Ward Strootman